Italian Futurism at Guggenheim NY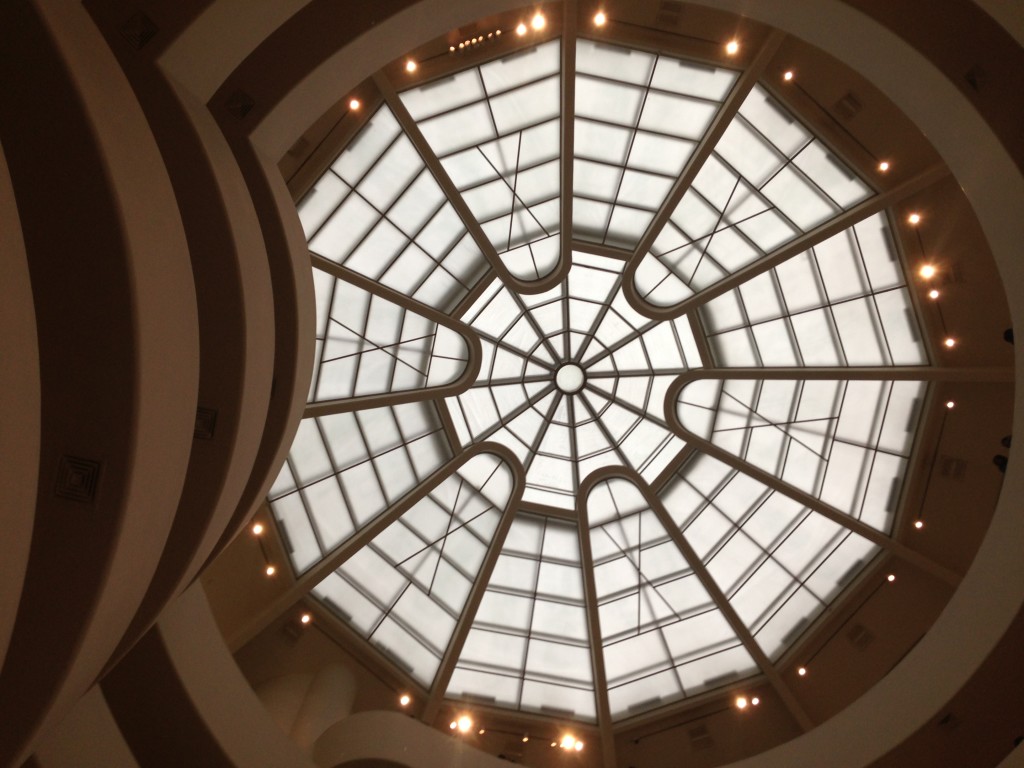 If you think to find exhibitions about Futurism in every city you visit, if you feel like having a bellyful of it and it could be repetitive and boring seeing so many exhibitions on this argument, it will be worth changing idea and making an exception for Guggenheim in New York: the more than 300 works you will admire going up and down the museum will leave you without  any words.
Following I'm leaving some opening information about the exhibition, whoever  wants to know more about it can visit the official site.
P.S. You have time until September 1st, if you are in New York don't lose it!
Se vi sembra di trovare mostre sul Futurismo in qualunque città vi rechiate, se pensate di averne piene le tasche e che vedere l'ennesima esposizione su questo tema potrebbe essere ripetitivo e annoiarvi, varrà la pena ricredervi e fare un'eccezione per il Guggenheim di New York: le oltre trecento opere che ammirerete percorrendo la rampa del museo vi lasceranno senza parole.
A seguire vi lascio alcune informazioni introduttive sulla mostra, chi volesse approfondire può trovarne di più esaustive sul sito ufficiale.
P.s. Avete tempo fino al primo settembre, se vi trovate a New York non perdetevela!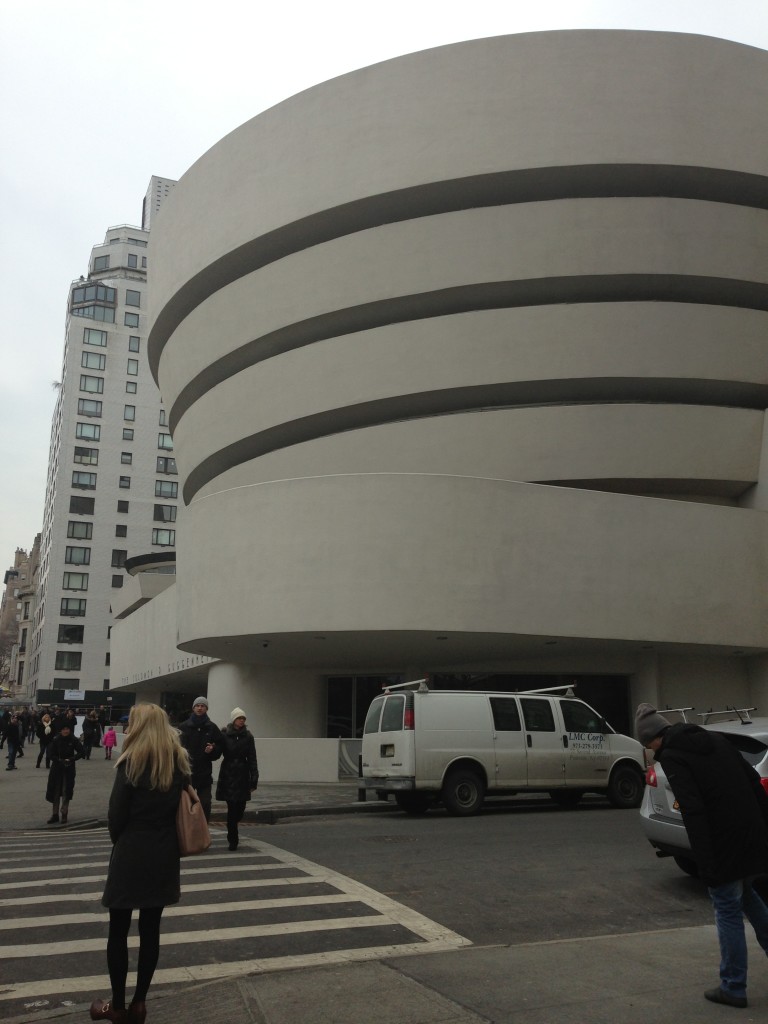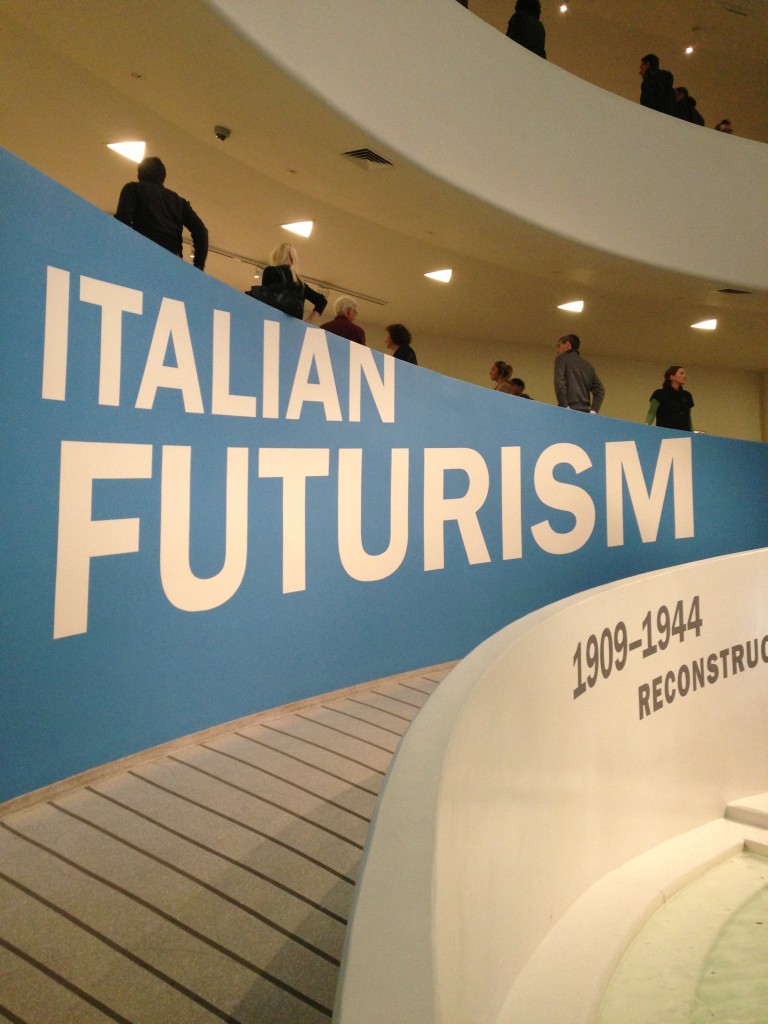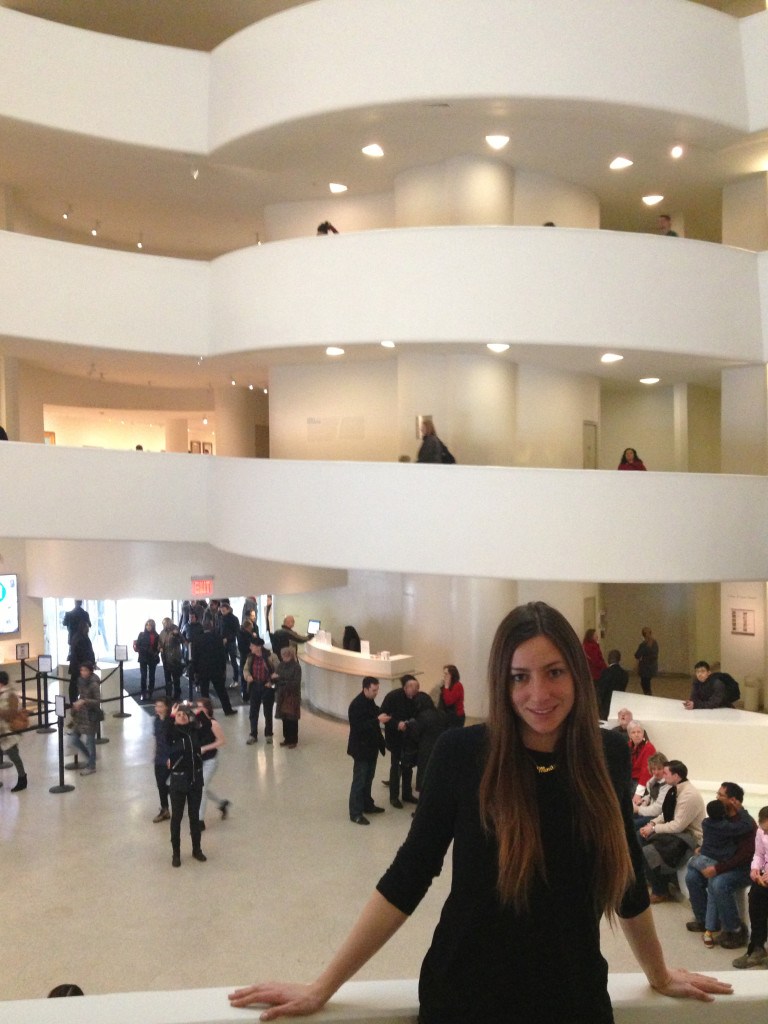 This multidisciplinary exhibition examines the historical sweep of Italian Futurism from its inception with F. T. Marinetti's Futurist manifesto in 1909 through its demise at the end of World War II. Presenting over 300 works executed between 1909 and 1944, the chronological exhibition encompasses not only painting and sculpture, but also architecture, design, ceramics, fashion, film, photography, advertising, free-form poetry, publications, music, theater, and performance. To convey the myriad artistic languages employed by the Futurists as they evolved over a 35-year period, the exhibition integrates multiple disciplines in each section. Italian Futurism is organized by Vivien Greene, Curator, 19th- and Early 20th-Century Art, Solomon R. Guggenheim Museum. In addition, a distinguished international advisory committee has been assembled to provide expertise and guidance.
Inside the exhibition path it's forbidden taking photos, here is a view of the works! (Courtesy Solomon R. Guggenheim Foundation, New York)
Questa mostra multidisciplinare esamina la scansione storica del Futurismo Italiano dalla sua nascita con il manifesto futurista di Marinetti nel 1909 fino alla sua scomparsa alla fine della Seconda Guerra Mondiale. Presentando oltre 300 opere realizzate tra il 1909 e il 1944, l'esposizione in ordine cronologico comprende non solo pittura e scultura, ma anche architettura, design, ceramica, moda, cinema, fotografia, pubblicità, poesia, pubblicazioni, musica, teatro e performance. Per trasmettere la miriade di linguaggi artistici impiegati dai futuristi nella loro evoluzione nel corso di 35 anni, la mostra integra molteplici discipline in ogni sezione. Italian Futurism è organizzata da Vivien Greene, curatrice per l'arte del diciannovesimo secolo e dell'inizio del ventesimo presso il Solomon R. Guggenheim Museum. Inoltre è stato costituito un illustre comitato consultivo internazionale per fornire consulenze e direttive.
All'interno del percorso espositivo è vietato fare foto, ecco un assaggio delle opere! (Courtesy Solomon R. Guggenheim Foundation, New York).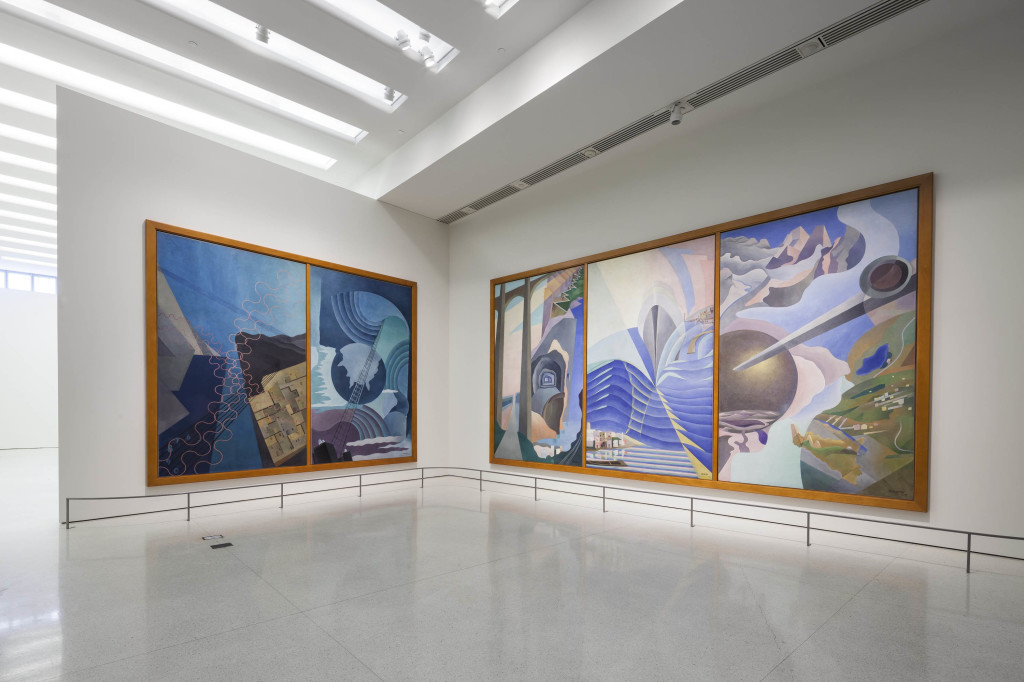 Installation view: Italian Futurism, 1909–1944: Reconstructing the Universe, Solomon R. Guggenheim Museum, New York, February 21–September 1, 2014. Photo: Kris McKay © SRGF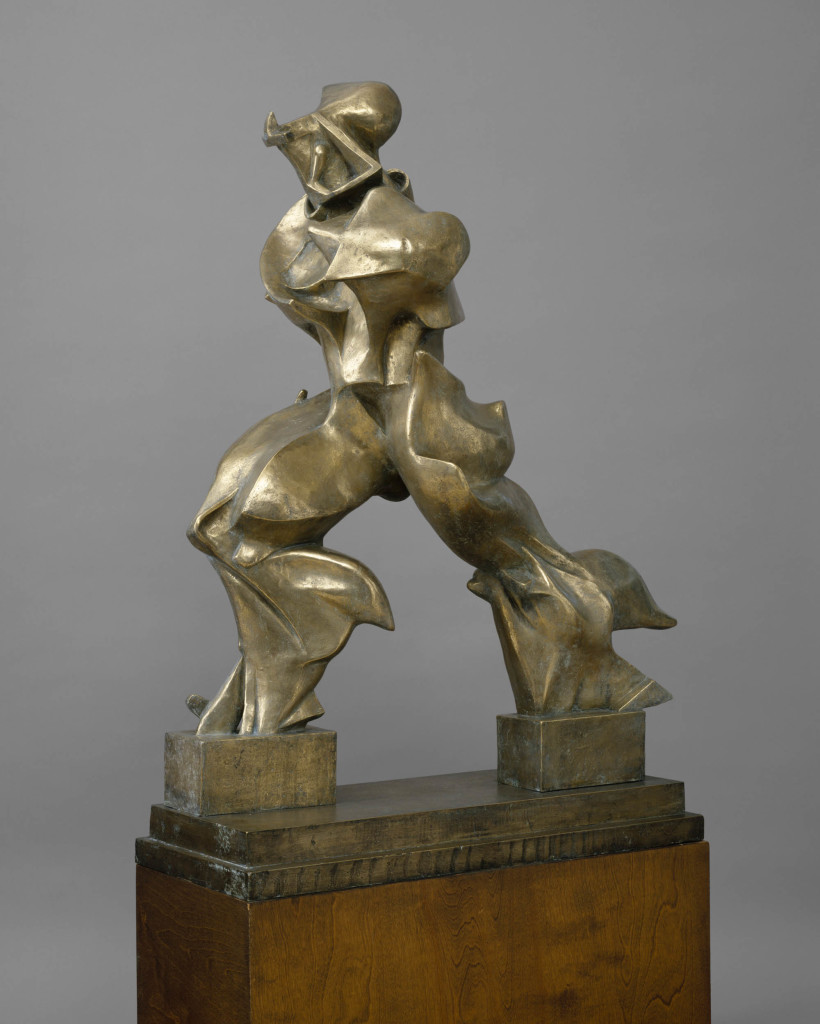 Umberto Boccioni
Unique Forms of Continuity in Space (Forme uniche della continuità nello spazio), 1913 (cast 1949) – Bronze, 121.3 x 88.9 x 40 cm
The Metropolitan Museum of Art, New York, Bequest of Lydia Winston Malbin, 1989
© The Metropolitan Museum of Art – Image Source: Art Resource, New York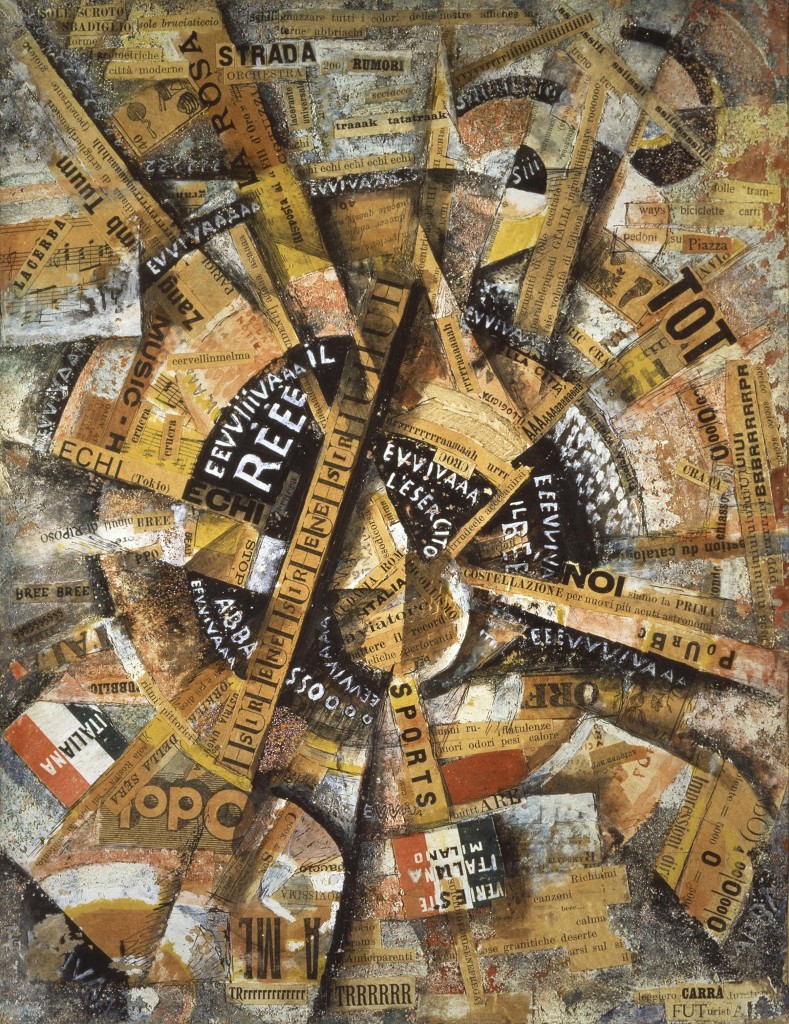 Carlo Carrà
Interventionist Demonstration (Manifestazione Interventista), 1914
Tempera, pen, mica powder, and paper glued on cardboard, 38.5 x 30 cm
Gianni Mattioli Collection, on long-term loan to the Peggy Guggenheim
Collection, Venice
© 2014 Artists Rights Society (ARS), New York/SIAE, Rome
Photo: Courtesy Solomon R. Guggenheim Foundation, New York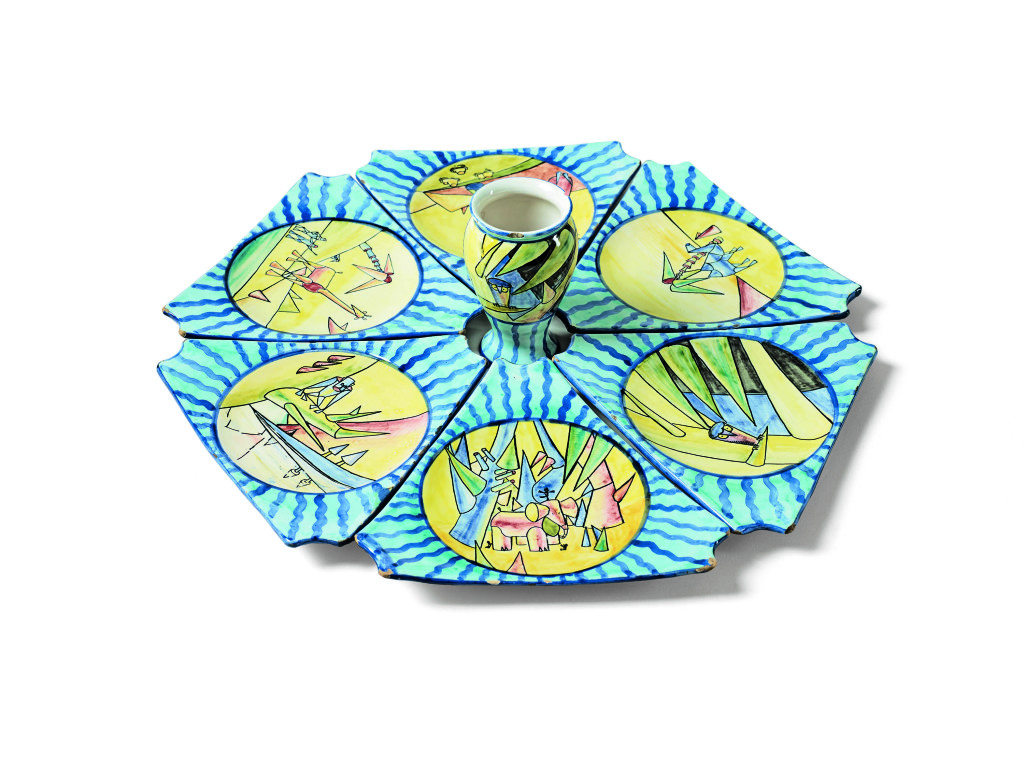 Bruno Munari and Torido Mazzotti
Antipasti Service (Piatti Servizio Antipasti), 1929–30
Glazed earthenware (manufactured by Casa Giuseppe Mazzotti, Albisola
Marina), six plates: 21.6 cm diameter each; one vase: 11.7 × 7.6 cm
The Wolfsonian–Florida International University, Miami Beach, The Mitchell
Wolfson, Jr. Collection
© Bruno Munari, courtesy Corraini Edizioni
Photo: Lynton Gardiner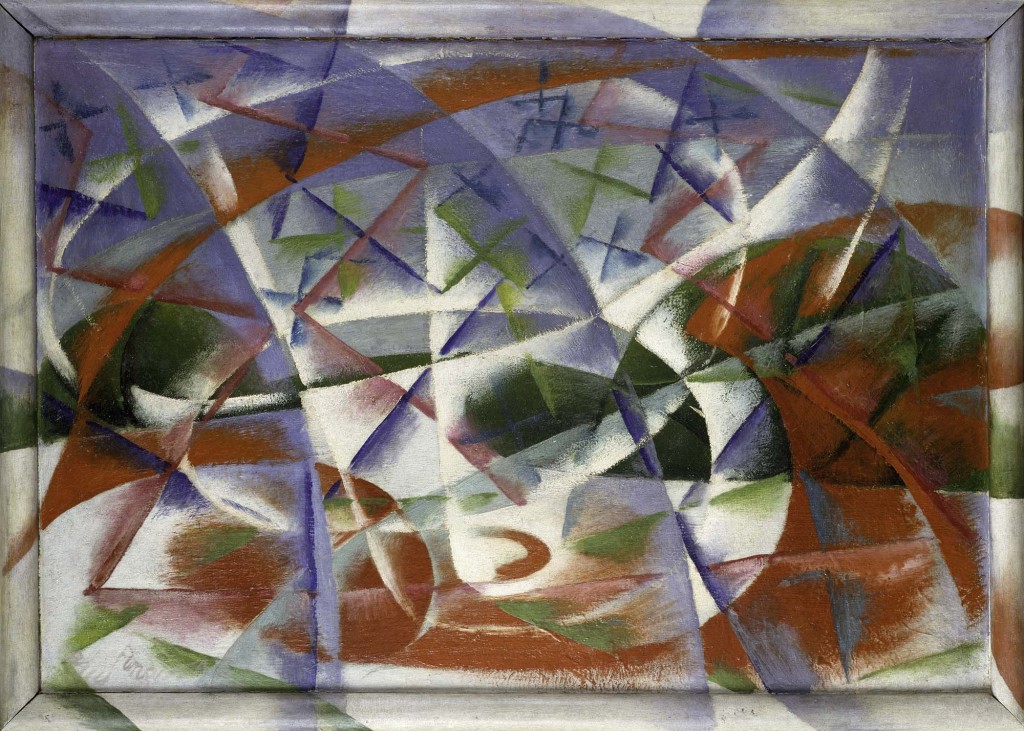 Giacomo Balla
Abstract Speed + Sound (Velocità astratta + rumore), 1913–14
Oil on unvarnished millboard in artist's painted frame, 54.5 x 76.5 cm
The Solomon R. Guggenheim Foundation, Peggy Guggenheim
Collection, Venice 76.2553.31
© 2014 Artists Rights Society (ARS), New York/SIAE, Rome
Photo: Courtesy Solomon R. Guggenheim Foundation, New York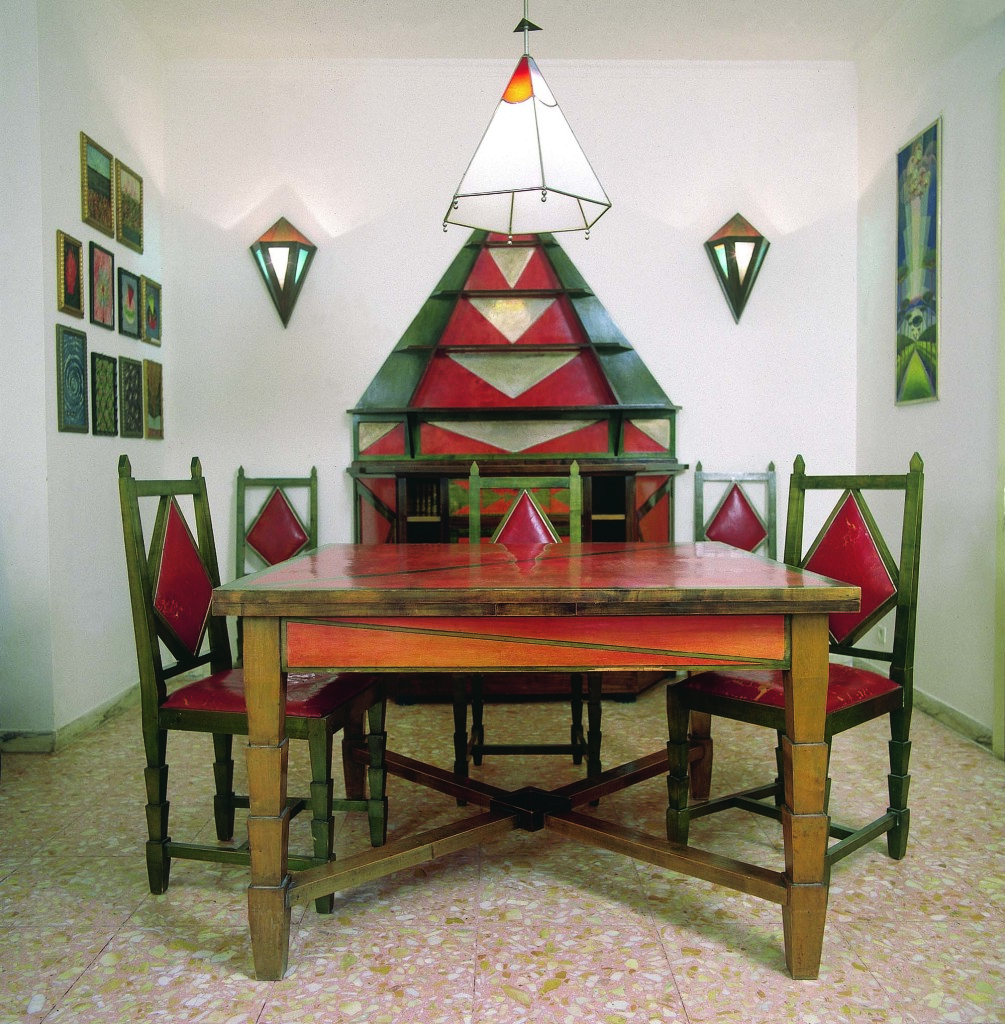 Gerardo Dottori
Cimino Home Dining Room Set (Sala da pranzo di casa Cimino), early
1930s
Table, chairs, buffet, sconces, and sideboard; wood, glass, crystal, copper
with chrome plating, leather, dimensions variable
Private collection
© 2014 Artists Rights Society (ARS), New York/SIAE, Rome
Photo: Daniele Paparelli, Courtesy Archivi Gerardo Dottori, Perugia, Italy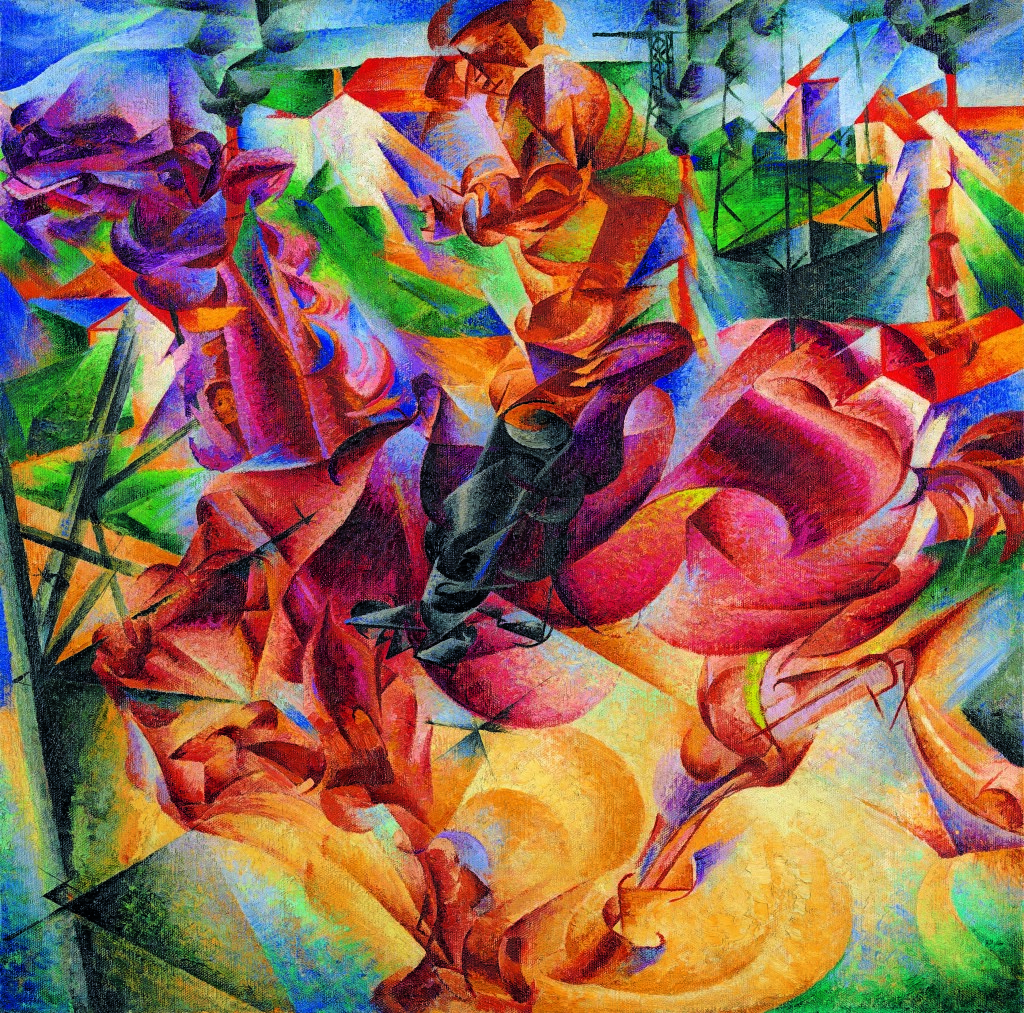 Umberto Boccioni
Elasticity (Elasticità), 1912
Oil on canvas, 100 x 100 cm
Museo del Novecento, Milan
Photo: Luca Carrà © Museo del Novecento, Comune di Milano–all legal
rights reserved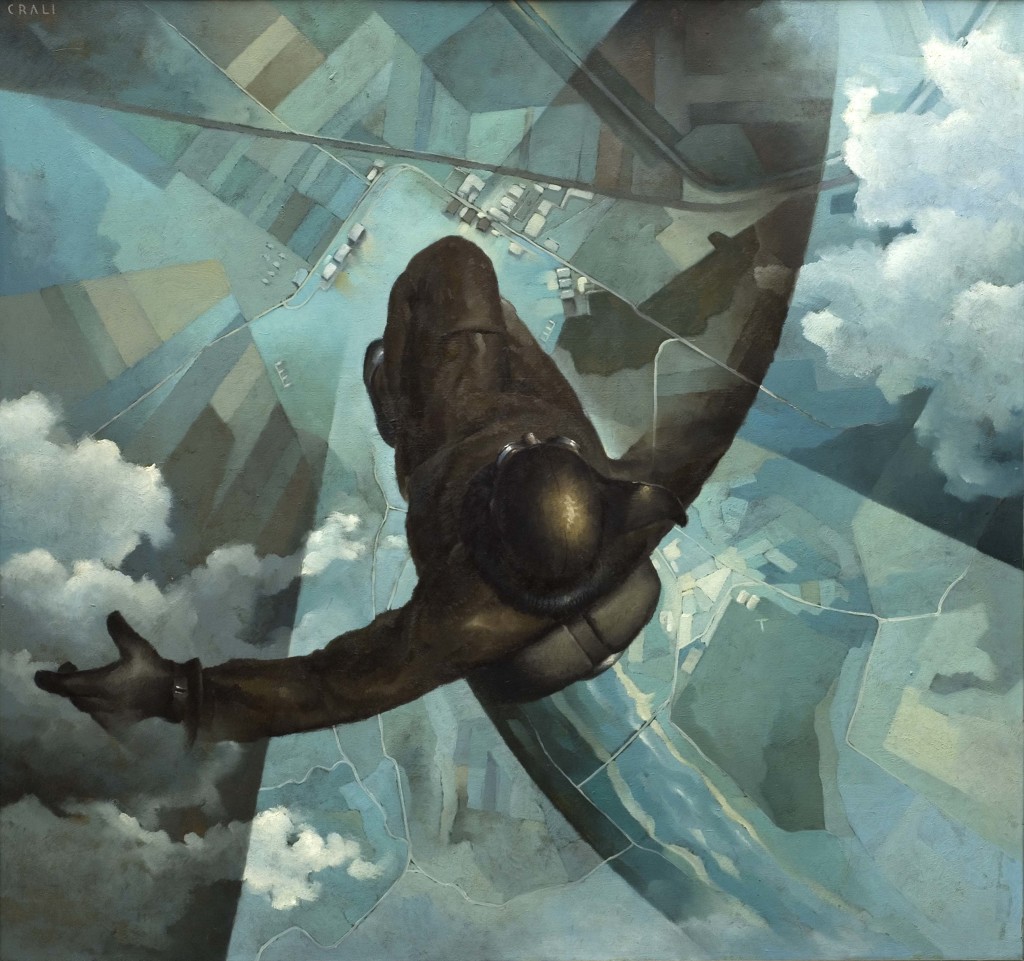 Tullio Crali
Before the Parachute Opens (Prima che si apra il paracadute), 1939
Oil on panel, 141 x 151 cm
Casa Cavazzini, Museo d'Arte Moderna e Contemporanea, Udine, Italy
© 2014 Artists Rights Society (ARS), New York/SIAE, Rome
Photo: Claudio Marcon, Udine, Civici Musei e Gallerie di Storia e Arte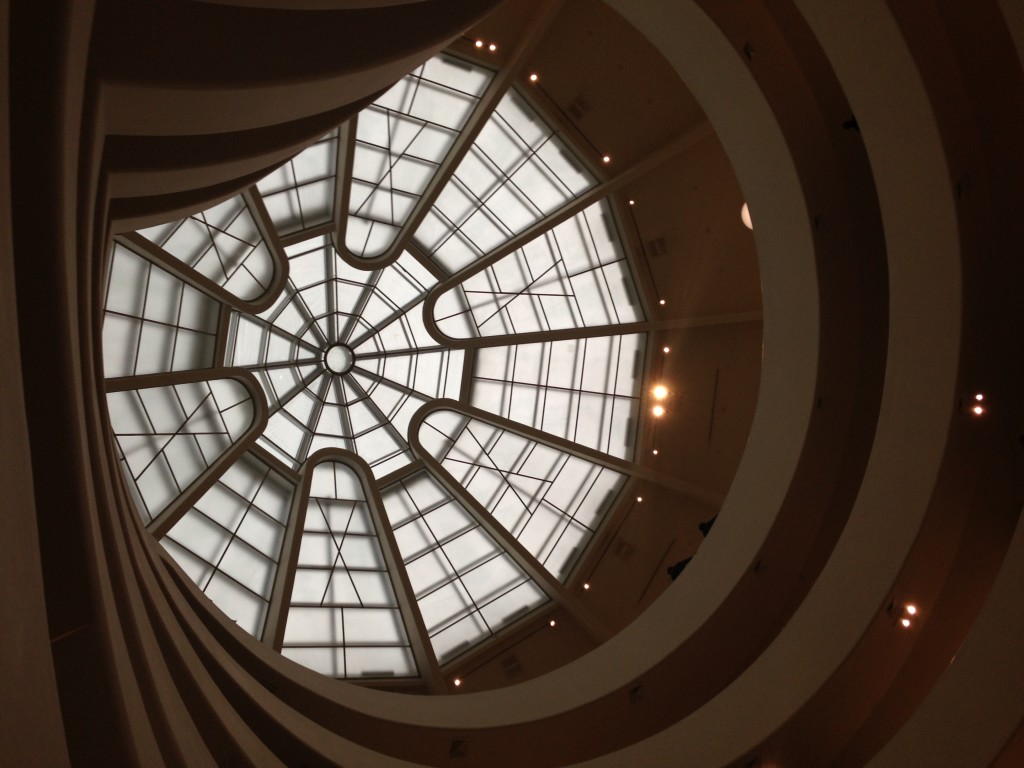 Comments
comments